Thailand 1996
P E O P L E
P R O F I L E

The Isaan People
The Isaan people are a gentle people of Laotian decent who inhabit northeast Thailand. They have resisted the Central Thai pressure to give up their culture by both protesting and fighting. When the government took away all forms of their writing, they continued to maintain their Lao dialect without writing, and it continues strong to this day. Recent Isaan protests have brought a more conciliatory tone from the government, but the general attitude of both the government and the church is that the Isaan should settle down and become Central Thai in culture. Nonetheless, the Isaan have a distinct language, social class and eating habit.
They cherish their "sticky rice" as a staple and eat it with every meal. All their meals are the same and consist of rice with all manner green plants, along with fermented fish. Protein is not affordable, so it is often lacking in the diet.
The Isaan have never had much wealth, but the shift from their past communal farming style to a cash based society has done much to promote selfishness. A common solution to the poverty they face in the villages is to send their children to the city in order to make money to send back. This separates the family and introduces the children to many sorrows.
The Isaan are not adverse to taking up Western culture, but they resist Christianity as foreign. For them, as for other Thai people, to be Isaan is to be Buddhist. They seem interested in hearing about Christianity, but the possibility of conversion is not as welcome. They respond very favorably to those who make the effort to appreciate their culture and learn their language.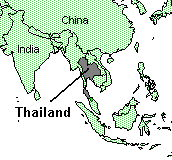 Population :
20,542,381
Language :
Isaan (NE Thai)
Religion :
Buddhist
Status :
.01%

---
---
1. HAVE THEY HEARD THE GOSPEL?

Pastors / Evangelists to Population 1990 : 1 pastor / evangelist for every 40,000 _ persons (total pastors / evangelists - less than 100)
Missionaries to Population 1990 : 1 missionary for every 400,000 _ persons. (total missionaries -less than 50)
Number of mission agencies targeting this people group 18 _
Who is Jesus Christ to them?
.01% Believe Jesus is the Son of God.
? % Believe Jesus is a prophet, Teacher, a Good Man, but not God's Son.
75 % Believe Jesus is myth. (founder of the foreigner's Christian religion)
25 % Have never heard His name.
2. HAVE THEY RESPONDED TO THE GOSPEL?
Believers to Population
1980 : 1 believer to every _ persons. (unknown)
1990 : 1 believer to every 1,000 persons. (total believers - 20,000) (.01%)

Is there adequate prayer for this people? No.
Number of churches / fellowships adopting this people group: None known
3. DO THEY HAVE A CHURCH?
Churches to Population
1980 : 1 church to every _ persons. (total churches unknown )
1990 : 1 church to every 20,000 _ persons. (total churches - less than 1,000)
Total number of Communities (cities, towns, villages) - 40,000 _

Churches to Communities
1980 : 1 church to every _ communities. (unknown)
1990 : 1 church to every 40 _ communities. (total communities without a church - 39,000)

4. DOES THIS PEOPLE HAVE THE WORD OF GOD TRANSLATED INTO THEIR MOTHER TONGUE? (NT., OT, Portions) IN WHAT FORMS? (Printed, audio, visual)

No complete written work in their heart language. Their written language was destroyed forty years ago as a Thai unification move, yet the dialect of Lao they speak continues strong in usage. This causes Children to have a hard time when they start school learning Central Thai. A missionary from New Tribes Mission translated Galatians and Ephesians into Isaan using Thai script, but that project was discontinued. The 1932 Thai bible is difficult to understand, and though the new translation being developed should help, it would be better to have a copy in their own language.

5. ANY HINDRANCES TO SCRIPTURE DISTRIBUTION?
Literacy Rate: 70_%
Thai people love receiving handouts, but written things create a dilemma. They find it difficult to relate to the old Thai translation, yet they don't have their own language in writing. Perhaps the new Thai translation being worked on will help.
6. WHAT OTHER FORMS OF GOSPEL PRESENTATIONS ARE AVAILABLE?
| | |
| --- | --- |
| Recordings : Recordings | Radio : No |
| Literature : No | Video : No |
| Films : No | Other : |
7. ARE THEY RECEPTIVE TO CHANGE AND TO CHRISTIANITY?
They are seek culture from the West, but this does not include Christianity. Schools and national media teach that to be a Thai is to be Buddhist. Christianity is seen as a foreign religion.

8. DO THEY REQUIRE OUTSIDE (CROSS-CULTURAL) ASSISTANCE?
(Why or why not? Conclusions based on answers to questions 1-7)
Yes. There are several people groups which are culturally similar, but they are unreached as well. Few people have treated the Isaan like the unique people group that they are. They are nearer to Lao culture and language than to Central Thai, yet the attempt has often been made by both the government and the church to treat them as Central Thai. Most Christian resources are in Central Thai, yet these people really respond when Isaan is spoken. They need scripture and Jesus Film in Isaan.

---
---
LOCATION / ENVIRONMENT INFORMATION
The Isaan are located in the arid tropics of northeast Thailand. Soil quality is poor and population density is high. Reforestation programs bulldoze many acres of forest which was formerly public. This land is planted with eucalyptus trees in order to get quick profit, which makes it useless for most other things. This limits the land available, as well as wood. The result is destroyed forests.

GENERAL DESCRIPTION
The Isaan are a hard working, good natured people of Laotian decent. They are in the process of acculturation to the predominate Central Thai culture, but they continue to form a distinct cultural group as evidenced by their own language, eating habits and their distinct social class. The Isaan farmers have often fought with the Thai government. In the past these farmers would get punished for such fighting, but more recently the government has shown more toleration. In any case, governmental concessions seem far away.

LANGUAGE / LITERACY INFORMATION
| | | |
| --- | --- | --- |
| Adult Literacy (%) | : 70 | |
| Primary Language | : Isaan | Speakers (%) : 70 |
| Second Language | : Central Thai | Speakers (%) : unknown |
| Third Language | : various | Speakers (%) : 30 |
ECONOMICS
Occupations : 85% Rice farmers who depend on grain-fed agriculture. Other jobs include laborers, merchants, government employees.

Income Sources : Many rely on money sent from relatives working in Bangkok. Indebtedness is common as well. Tobacco and other cash crops are grown to augment rice crops.

Products / Crafts : The production of silk weaving and baskets involves a deep set division of the sexes. Traditionally, men have done the basket weaving, and women have made the clothes. The introduction of industrialized clothing has changed the demand for traditional methods, and women have shifted to growing lucrative cash crops. Yet they continue to weave with new time saving methods of production. This gives them the satisfaction of providing things for the family as well as selling at the market. Plastics have been introduced, but have bamboo continues to be used both because it is plentiful, and because it has a traditional appeal.

Trade Partners : Not known

Modernization / Utilities : Roads within the northeast are being improved. Primary schooling is available throughout the region. Clinical outposts are expanding to the smaller districts. Telephone lines are in all provincial capitols and many district towns. Over 95% of villages have electricity, and those with electricity manage to get refrigerators and TVs. Most homes have a toilet with septic tank. Most villagers still depend on hand-dug wells for drinking water, large rainwater tanks are also widely available. Bottled gas is available, but not widely used. Most cooking is done with charcoal or wood collected from fields.

Other :

LIVING CONDITIONS / COMMUNITY DEVELOPMENT STATUS
Food : All meals are the same, whether breakfast, lunch or dinner. Men usually eat first, with everyone eating from common bowls which are placed on the floor, and afterwards they drink from a common dipper.
Rice is their staple. This is a sticky type which digests slowly and holds off hunger pangs. Most green plants are eaten, including many that are not considered food by others. Hot chili peppers react with these plants, making pleasant and sweet flavors. Fermented fish is added to meals, and can introduce parasites. Proteins are expensive and not much used, but include iguanas, snakes, lizards, toads, fish, snails, field crabs, birds, eggs, rats, mice, insects, chicken, beef, buffalo, pork, and sometimes dog.
Dairy products aren't used, and osteoporosis is seen among many elderly women. Schools are starting to provide UHT milk to students to combat this problem.

Shelter : The scarceness of building timber results in homes being built from concrete blocks instead of the traditional raised wooden-post construction. Such homes are single story concrete post and block construction.

Clothing : Isaan men and boys wear casual western clothes with cheap plastic sandals. In the village men often they wear a "pakama," which is a light cotton cloth of two meter length wrapped around the waist or head. This pakama can serve as a belt, hat, storage bag, swimming garment, or hammock. In the evening, after they bathe, they may wear it without a shirt.
Village girls prefer jeans and tee-shirts and sandals. Once pregnant, they often revert to the more traditional sarong. This sarong is a tube shaped cloth worn around the waist. Most women end up wearing this for the remainder of their lives, having silk versions for special occasions. Some women raise silk worms to make their own sarongs.
School children wear uniforms to school. This can be such a burden for poor people that they send their children to school on alternate days so that they can share their uniforms. Scouting outfits and gym suits can add to this burden, prompting wealthier schools to establish trust funds for clothes and books.
During rice planting season workers cover themselves completely to protect from the sun, and some wear ski masks year round.

Health Care : Preventative medicine is not emphasized. Most doctors make their money selling medicine such as shots and pills. Health care is better in cities than villages.

Water (Domestic / Agricultural) : Irrigation has been encouraged by the government, but farmers aren't generally interested in increasing production beyond current levels. The combination of deforestation and irrigation has produced salinity problems due to the nature of the soil and the water table. Keeping the water table low is preferred because of salinity issues.

Energy / Fuel : unknown

Other :

SOCIETY
Family Structures : Men marry into their wives' households, staying several years with her family before building a new house often in the same compound. The youngest daughter usually looks after her parents in old age and inherits the property. Families tend to focus on the parent-child relationship, especially between the mother and children. Having male offspring is preferred, with the average family having two children. The government encourages this average of two children by offering free sterilization after the second child.

Neighbor Relations : Rural villages have changed dramatically in neighbor relations since moving from a barter society to a cash economy. Neighborhood groups used to work together to plant rice fields, but now farmers hire workers on a cash per day basis. This has reduced harvests and has prompted broadcast planting of crops.

Rule / Authority / Selection : Central Thai policies have replaced the traditional Isaan system. Village headmen used to serve for lifelong appointments, but now they are elected for five year terms by the villagers.

Social Habits / Groupings : They are community oriented people, preferring long chats together. They dislike being alone Villages are surrounded on all sides by rice paddies. They live in clusters within the village, not on their fields.
| | | | | |
| --- | --- | --- | --- | --- |
| Cultural Change | : ( ) Static | ( ) Slow | ( ) Medium | (X) Rapid |
| Acculturation to Nat'l Society | : (X) Distant | ( ) Near | ( ) Semi | |
| Self Image | : (X) Threatened | (X) Depressed | ( ) Prestigious/Proud | |
Judicial System / Trial Punishment : Jails and prisons are brutal, and people may be tortured to secure confessions of guilt. It is the policy that people are guilty until proven innocent.

Crisis / Conflicts - History / Status : The central Thai government has maintained a long-standing policy of forcing the Isaan to adopt Central Thai culture. The Isaan have resisted by protests and fighting, and this has caused much bloodshed for them. The Central Thai burned all Isaan writing forty tears ago, and since then they only speak Isaan. Yet they have not lessened in their passion to maintain their language of their culture. It can be a traumatic experience for children when they start school, since they only hear Isaan at home and must learn Thai as a second language. The current government has been more conciliatory toward protesting Isaan farmers, but it does not appear that they are appeared to listen to the idea that the Isaan be less controlled form Bangkok.

Celebrations / Recreation : The Thai new year, called "Songkran, " is the most notable festival. It occurs during the hot season. In the Lao tradition, it is supposed to be a time to visit elders and bless them with a sprinkling, but for young people, the three day celebration has become a time to douse others with buckets of water and then smear talcum on their faces. Another celebration is "Bun Bang Fai," which combines elements of animism and Buddhism. The two day festival involves merrymaking and firing off rockets into the sky in order to bring rain.
Foot sports such as soccer, sepak-takra, and Thai boxing are preferred, being geared mostly for men and boys. Animal fights involving cocks and fish are popular, and usually involve gambling.

Art Forms : "Maw Lom" music is indigenous to Lao/Isaan culture. It is traditional music which uses a bamboo instrument, the "kaen," and incorporates Isaan forms. This music has been modernized and made into an electrical, fast-paced version called "Maw Lom Sing." It is considered the ultimate in popular Isaan music.

Media (Radio / TV / films / videos / recordings ) :

Other :

CHILDREN / YOUTH
Education / Type of Schooling : The education system is based on the English system. Village children are required to attend up to sixth grade. In the provincial capitols, children are required to attend up to ninth grade.

Labor / Tasks : Many children tend cattle and water buffalo; for some this chore can keep them from going to school. Girls help take care of younger children, and boys collect firewood and grass (to feed the cattle). Both boys and girls work plant and harvest rice as they get older.

Problems (Morality / Family / Insurrection / ect. ) : Rice farmers feel desperation when it comes to money. Young people are encouraged to go elsewhere to work, and they are expected to send money home. Young people may end up in debt, or get addicted to a number of things as they go to more urban settings. Some families send girls and boys to prostitution. This exposes them to the risk of AIDS, which has become a real problem in Thailand.

Greatest Needs :
The goal of parents for economic improvement is sacrificing families. There needs to be a renewed commitment to solid values which will reinforce the family rather than separate it.
Improved education is also needed for villagers, including training about sex education, AIDS awareness, and alcohol and drug abuse prevention. Village school teachers need better salaries, and students should be able to get scholarships.
Improved nutrition is needed so that people get enough protein and calcium.
Other :

RELIGION
| | | | |
| --- | --- | --- | --- |
| Religions Practiced | | Adherents | % Practicing |
| Primary | : Buddhist | 18,500,00 | 10 |
| Secondary | : Animist | 2,000,000 | 20 |
| Tertiary | : | | |

Religious Practices / Ceremonies : Prayer strings are used to bind people together symbolically. Although used in Buddhist ceremonies, some missionaries have adapted this practice for church use since it has deemed a cultural symbol. Praying with hands together is another such form that missionaries have adapted.

Redemptive Analogies / "Bridges" : not known to writer

Spiritual Climate / Openness : not known to writer


---
Speaking to them in their heart language is crucial. They are interested in preserving their culture, and appreciate it when others respect it. Taxi drivers in Bangkok are especially responsive, for example, when spoken to in their heart language. Also important is using traditional instruments and styles for church music. Many missionaries have disregarded the Isaan culture by presenting them with Western hymns and Central Thai scriptures. This does not go over well with a people who have been fighting for many years to resist assimilation into Central Thai culture.
ITEMS FOR PRAYER
Pray for vision among churches and organizations for outreach, and a willingness to try new forms of ministry.
A spiritual breakthrough. The word Isaan comes from Shiva, god of destruction. Pray that the power of destruction will be broken in their lives. Pray that they will come to know the God of Healing and Restoration.
Pray for other unreached sub groups of the Isaan, which are Chinese merchants/money lenders, Sikh of Indian decent (fabric vendors, peanut sellers), Vietnamese born in Thailand (produce vendors), Central Thai (government employees), military/police, movie/fairground workers, prostitutes/addicts, foreigners, Khmer speakers.
BIBLIOGRAPHY
People Profile on the Isaan People. Peter DeNeui, Evangelical Covenant Church, 1995.
Talk with Jim Gustafson from Evangelical on 15 Jan 1995, First Covenant Church, Oakland. CA
People Profile: Isaan of Bangkok. YWAM, 1990.
Reaching the Peoples of Bangkok. Caleb Project Report 1988, Littleton, CO. (unpublished report surveying work in Bangkok)
Reflections on Thai Culture. William J. Klausner, 1987 Siam Society. (Collected writings of authors experience in a northeast Thai village)
Thailand Christian Directory. Premwadi Chowanpong, 1995.
The greening of Isaan. Thai-Yunnan Project Newsletter, Research School of Pacific and Asian Studies of Australian National University. March 1994.


---
REACHED STATUS
| | | | |
| --- | --- | --- | --- |
| Reported | : Y | Selected | : N |
| Verified | : N | Supported | : Y |
| Evaluated | : N | Engaged | : N |
CHURCH GROWTH
| | | | |
| --- | --- | --- | --- |
| Total Believers | : 20,000 | Worship Centers | : 200 |
| Total Baptized | : unknown | Preaching points | : 500 |
| Pastors | : 100 | Schools | : 13 |
| Lay Leaders | : 400 | Clinics/Hospitals | : unknown |
| Average Attendance | : unknown | Literacy Centers | : unknown |
HISTORY OF CHRISTIANITY IN GROUP
| | |
| --- | --- |
| Year began | : 1928 |
| By whom | : Dr. Paul Gunther |
| Significant Events | : Gunther started with C&MA in Cambodia, but was moved to start work among Khmer of NE Thailand. He realized that he would need to speak the Isaan language to be effective. With fervent prayer, he gained the help of a translator and planted several churches in Ubon province. In 1931, Robert Chrisman and Peter Vots joined the work, establishing churches in capitol cities, some of which remain. An agreement was made in 1960 to open up field to all mission agencies. |
SCRIPTURE / LITERATURE / MEDIA STATUS
| | |
| --- | --- |
| Scripture | : None in Isaan. New translation forthcoming in Central Thai |
| Literature | : None |
| Recordings | : None |
| Films | : None |
| Radio | : Plans are being made for Radio programs in Isaan |
| Video | : None |
| Audio / Visual | : Messages on audio tape |
ORGANIZATIONS WORKING AMONG
| | | | | | |
| --- | --- | --- | --- | --- | --- |
| Name | Country | Ministry | Adherents | Curches | Workers |
| Abundant Life Center | Thailand | Evangelize Isaan in Bangkok | 45 | | 4 |
| Evangelical Covenant Church | USA | Church planting | | | 9 |
| Isaan Development Foundation | Thailand | Equip villagers in agriculture | | | 35 |
| Institute for Sustainable Development | Thailand | Resource base for churches, projects | | | |
| Lower Isaan Foundation for Enablement | Thailand | Building and enabling churches in lower Isaan | 120 | | 10 |
| Thailand Covenant Church | Thailand | Church planting | 3,000 | 40 | 4 |
| Christian and Missionary Alliance | USA | Church planting | | 20 | |
| Church of Christ | USA | Church Planting | | 29 | |
| Hope of Bangkok | Thailand | Church Planting | | 100 | |
| Seventh Day Adventist | USA | Church Planting | | 24 | |
Number of Additional Groups Working Among: 40
Total of All Groups Working Among: 50

Total Expatriate Missionaries: 50
Total Domestic Missionaries: 100

RESPONSIVENESS
Attitude to Christianity: Tolerant and superficially interested, but "to be Thai is to be Buddhist"
Openness to Religious Change: Not open. Giving up Buddhist is seen as too difficult
Ministries Responsive to: Holistic/indigenous approach, friendship evangelism that meets needs, agricultural projects
Resistance / Receptivity:
PRESENCE OF CHRISTIAN MINISTRIES
| | | | | |
| --- | --- | --- | --- | --- |
| 0 = None | Home / Family | : 0 | Business and Commerce | : 0 |
| 1 = Poor | Church | : 1 | Arts / Entertainment | : 1 |
| 2 = Fair | Education | : 1 | Government | : 1 |
| 3 = Adequate | Media | : 1 | | |
| U = Unknown | | | | |
---
SPECIFIC WAYS TO REACH THESE PEOPLE
Community development has been very successful in restoring the ecology and society of the villages, as well as providing the context for evangelism. One example of this is the Evangelical Covenant project that breeds larva to feed fish in local ponds. These fish are then caught and sold. The additional meat provides an increase in available protein to the community diet. Additional projects provide reforestation.
People working with these projects have seen discipleship as they work with Christians in a community environment, and they have been attracted to the gospel. They also get money without leaving the village. In Many of the problems mentioned for the Isaan are addressed in such a plan, giving the people back their lost culture as well as giving them freedom from selfishness through Jesus Christ.
National prejudices thwart the hope that Central Thai believers would ever become cross cultural missionaries to the Isaan. Getting prayer and support from the churches of Bangkok for non-Thai visionaries is possible.

CURRENT NEEDS
More visionaries with a plan to develop a church planting movement among the Isaan. A new translation in modern Thai, Gospel recordings in Isaan, Jesus film in Isaan, improved employment opportunities for the Isaan so they don't have to go to Bangkok, higher education for Isaan, less centralization of power/fund distribution from Bangkok to provinces, more teamwork between mission groups.

FOR FURTHER INFORMATION
Contact Jim Gustafson of Evangelical Covenant or Dr. Somdi Pootsawtsee, pastor of Ruam Nimit Church, Bangkok
(or other groups listed earlier).